Meet the Next Level of Urban Accessibility
Overcome the range anxiety with the battery swapping feature, extend your riding range from switching to a fully charged battery is as easy as a snap of fingers. The battery pack weighs only 5 lbs (2.3 kg) and can be easily taken with you, you can also connect the charger directly to the battery pack for fast and convenient charging.
450W High-performance Hub Motor
AnyHill UM-2 Electric Scooter is equipped with a 450 W (max. 750 W) brushless motor that allows you to reach a maximum speed of 19 mph. The strength unleashed by this beast also allows you to climb slopes up to 20 °.
Equipped with high-quality LG 21700 large capacity lithium batteries, delivers a high power supply, and closely monitors the battery status with multiple protection mechanisms to ensure battery safety.
Weight of 44lb, UM-2 can be carried by a single hand. 3 seconds fold-up design, length of 3'9 after folding, easy for carrying on elevators, subway, and storage in a vehicle's trunk.
In Terms of Speed and Safety, UM-2 Can't Go Far Wrong
The UM-2 puts power and control in your hands with the thumb-activated acceleration control, electronic rear brake and front mechanical brake,
3 Speed Modes&Cruise Control
The electric scooter strikes the perfect balance that accommodates new riders whilst also offering a thrilling top speed of 19 mph. There are 3 riding modes to choose from.
ACCESSIBILITY AND ENJOYMENT
Highly Enjoyable Riding Experience with 10-inch pneumatic tires, an upgrade from 8.5″ wheels for more comfort and shock absorption, with integrated bub design, all internal components of both wheels are fully sealed and covered, designed to increase riding safety by preventing unexpected ingress to both front and rear wheels.
EXTRA COMFORT &
STRONG FRICTION PLATFORM
Providing extra comfort for you. Its anti-slippery design increased contact friction and stability for the rider.
Connect your AnyHill electric kick scooter to your mobile phone with the AnyHill app. Allows you to monitor speed and battery life,  lock & unlock your E Scooter, making it easier than ever to control from anywhere with your smart phones.
Anti Glare LED Headlights
The upgraded high-brightness LED headlight is designed to illuminate the path up to 33 feet, by fully complies with the K-MARK (StVZO) standard, the adjusted light irradiation angle keeps the light beam below the line of sight to avoid headlight dazzle and increase nighttime riding safety. 
Turn on the headlight and taillight with a single click of the control button. Together with the front and rear reflectors, nighttime riding safety is ensured. 
E brake + Physical brake + Automatic Power Cut-off features ensures maximum control and utmost safety
The user-friendly, stable dual-sided kickstand can be used from both sides of the scooter, park at an upright position with a stance.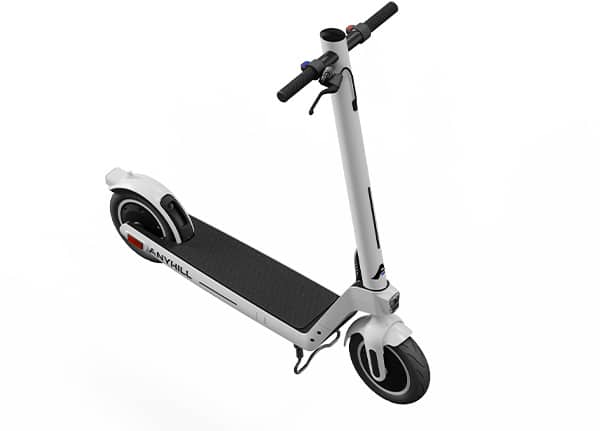 The UM-2 comes with a metal-reinforced rear fender to keep the mudguard in the right position, prevents accidental stepping on the fender which causes damage to the tire and makes the folding structure rigid and stable.